Do I need Anti-Virus Software?
Yes. Anti-Virus Software defends against and removes malicious virus which can and will infect your computer via a variety of methods if you are not protected. Protection is far more efficient then removal and repair. Anti-virus software must be frequently updated in order to be effective, for only known viral threats can be recognized as they attempt to infect your computer. Keyway Recommends F-Prot Anti-Virus with automatic updates so you will be effortlessly protected at all times.
Why F-Prot Anti-Virus?
F-Prot Antivirus products are efficient and demand little of the user's system resources. F-Prot challenges other anti-virus products with optimal speed, reliability, and detection methods -- all at a more affordable price.
RealTime Protector
Scans all files accessed by your system for viruses in realtime.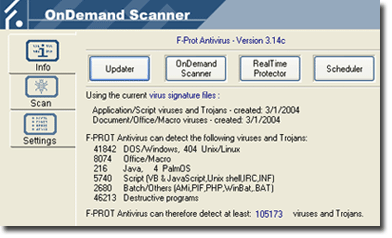 Updates and Technical Support
Both updates to the program itself and its virus signature files are included with F-Prot Antivirus for Windows as well as Support Service.

Updater
Handles updates of your virus definition files, enabling F-Prot Antivirus for Windows to tackle the latest threats.
Scheduler
To automate tasks such as updating the virus signature files and scanning.

DOS OnDemand Scanner
The perfect tool for recovering from a virus that has left Windows inoperable.
OnDemand Scanner
To manually scan your computer for viruses.
| | | | | | | | |
| --- | --- | --- | --- | --- | --- | --- | --- |
| | Software | Type | Platform | Users | Cost | | |
| | F-Prot Anti-Virus | Home | Windows | 1 | $29.00 | | |
| | F-Prot Anti-Virus | Commercial | Windows | 10 | $50.00 | | |
| | F-Prot Anti-Virus | Commercial | MailServers | unlimited | $299.00 | | |
| | F-Prot Anti-Virus | Commercial | Unix FileServers | unlimited | $399.00 | | |
| | F-Prot Anti-Virus | Commercial | MS Exchange 2000 | 10 | $360.00 | | |